Data mining using machine learning (AI) for unique epigenetic data insights
Epigenomic Services at Diagenode offers data analysis solutions for different application areas. These analysis services are open to everyone, whether you use our wet lab and sequencing service with us or not.
ADVANTAGES
The bioinformatics team works constantly to optimize pipelines to deliver biologically meaningful results within a short turnaround time
Flexible and communicative team work in close collaboration with you to adapt to your analysis requirements
We help you shape the methods section of your manuscripts
We back up our internal servers daily to protect your data
We have great computing capacity to undertake large projects.
Check out our service offerings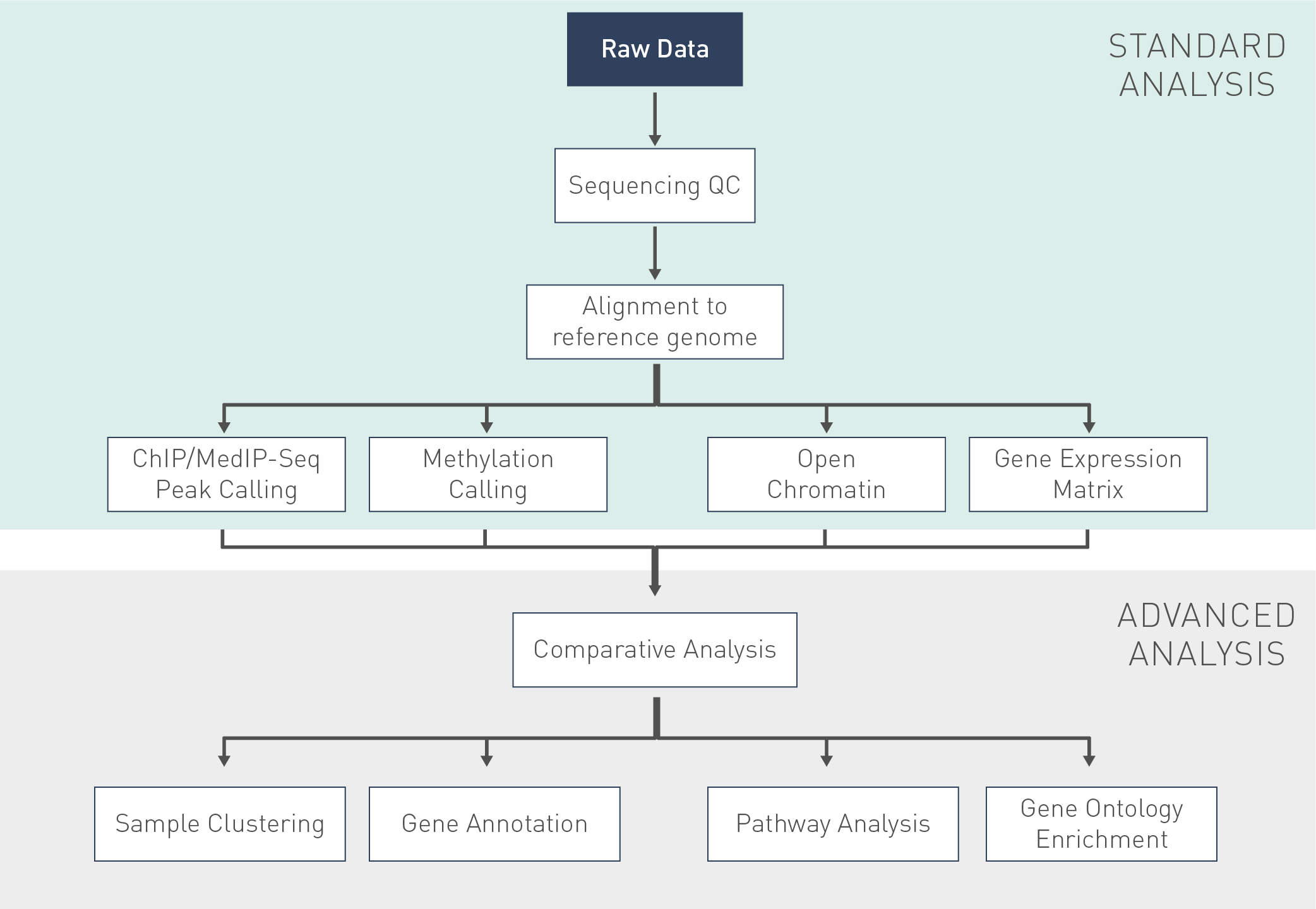 new data mining service utilizes methods at the frontier of machine learning, statistics, and database systems. This enhanced service supports new discoveries that were previously not possible by analyzing patterns in large data sets to give informative new insights.
If you have data from patient cohorts, single cell analyses or any other heterogeneous scenarios, our service team provides enhanced support with optimal data analysis using our latest data mining capabilities. Specifically, our team applies machine learning technologies to find previously undiscovered or unobvious relationships within and across datasets. This advanced technology allows discovery of informative features from mass data, essentially "finding a needle in a haystack."
Diagenode utilizes multiple algorithms to achieve advanced data mining and uses the most optimal combination of algorithms specific to your data. Our goal is to build strong classifiers that separate data into two or more classes or groups depending on associated data.
Different and multiple -omics data classes can be mined simultaneously. Integration with phenotypic and/or clinical data is also possible. We offer data mining services for several data classes including:
Epigenetic data
Transcriptomic data

DNA Methylation (RRBS, WGBS, EPIC arrays)

ChIP-sequencing

ATAC-seq

mRNA-sequencing

Small and long non coding RNA

Single-cell RNA-sequencing
Biological Interpretation
Machine learning classifiers also mirror the underlying biological differences between classes and are used to uncover the molecular processes at work. In order to achieve this, we offer biological interpretation services and pathway mining analyses for your data.